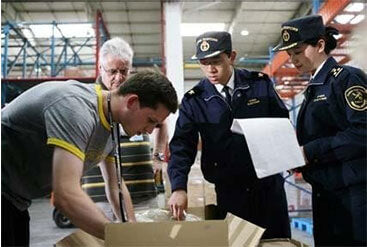 Customs Clearance Issues.
 All imported merchandises are subject to Customs clearance in every country.
 According to our general terms and conditions, you place an order from Datedirect and we will fulfill your order. But you                         
 had better to find out the clearance requirements in advance apply in that country, including taxes and policies, etc.
 
         With over 14 years' experience, we can confirm that over 99.9% of shipments from us are no issue about Customs clearance. Even if there is a case due to delay in Customs, the merchandises also are released and delivered successfully. Because the clearance is handled professionally by the shipping company and we an experienced provider with correct shipping documentation and compliant products and packaging.
Every Countty's Customers Has Different Policies, and These Policies Depends on Different Occasions, More Examples You Can Check.
♦ 

from port to port


♦

  from day to day or from one Custom's staff member to another


♦

  depending on the volume of packages requiring clearance on any particular day


♦

  depending on the security levels and political climate of the moment


♦

  depending on the package shipment method


♦

  depending on the package origin


♦

  depending on the package, weight, shape, packing, size, profile, x-ray results, etc


♦

  depending on the package contents


♦ 

depending on the declared or assessed valuation of the package contents


♦

  depending on the paperwork accompanying the shipmentdepending on random inspection timetables or scheduled batch checks for particular criteria
As the importer, you will be responsible for customs duty and any issues that may arise from an inspection or hold. Typically, the consignee of the shipped packets is taken as the importer in any case.
If drop shipping, it is important to note that the consignee is your customer, and therefore they will be liable for any assessed import duties, sales taxes, or issues arising from Customs inspection.

In most countries, depending on the category of merchandise imported and the quantity or value, the shipment will be assessed for duties and /or sales tax. That is your responsibility as the importer and you can find detailed notes from Datedirect LTD
In the Case of a Customs Hold
We will contact you to discuss the issue opening.
You will typically be required to communicate directly with your country's Customs, or contact them via your courier company. If additional documents are required, We will do our best to provide the documents to you and support the merchandise clearance.
 

How Much Tax Do I Need to Pay When Importing.
•  Please note that all import taxes / duties are the buyer's responsibility.
•  Datadirect will accept no responsibility for customs' costs incurred.
•  Many countries do not charge import duties on private items, samples, and goods below a certain stated value.
•  However, you may find that you have to pay taxes when goods you've ordered from us arrive in your country.
•  Obviously you will want this to be as low as possible, but cec Can't give you advice or information about tax rates and customs charges in your country.
•  You must ensure you find out about regulations in your own country before ordering from Datadirect In most countries the actual origin of the goods is not important: only the declared value of the goods and declared contents is relevant.
•  Let us know if you have any special packing or labeling instructions when placing your order.